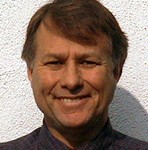 W. Gregory Stewart is 4-time Rhysling award winner and past Nebula nominee who commits poetry between computer outages in Los Angeles, California — it is one way of keeping global communications in perspective. If one picture is worth a thousand words, Greg says, it is the business of poetry to close that gap.
Greg has known David C. Kopaska-Merkel (through the mails, snail- and e-) for years, and considers any chance to collaborate with this stalwart of the SF Poetry community not just an honor, but a chance to touch the ages….
Finally – in an embarrassingly self-serving plug – he encourages everyone to submit an 'energy poem' to the SFPA's contest at http://www.sfpoetry.com/2008poetrycontest.html — terrific prizes and NO entry fee!
Photo by Helen M. Shoenfeld.
Poem (with David C. Kopaska-Merkel):
The Gates,
Or,
He who sits at God's left hand
has one hell of a right-hand Man…. " (October, 2007)